Update July 18:
Dear puppetry fan & TAAFI friends
We are sorry to inform you via this not-so-fun email that the workshop "Puppetry for Animators: Animating the Inanimate" which was scheduled to take place on July 22, 2017 has been cancelled due to unforeseen circumstances beyond our control. Please accept our apologies for the inconvenience and know that, should the event be rescheduled in the future, you will be informed immediately. We will be refunding the cost of the workshop for all those who purchased tickets. You will see the refund appear on your credit card within 5-7 business days. No further action from you is required.
Thank you for your interest in this event,
Team TAAFI
Sat, July 22, 2017 9 AM – 5 PM
Learn how to apply animation principles to the art of puppetry! In this intimate, hands-on workshop, the art of puppetry is explored from the perspective of one already versed in the fundamentals of animation.
Location - Skyship Entertainment, Toronto

Early Bird - $159* (until July 5)
Regular - $189*

*plus fees and taxes
ONLY 25 SPOTS!
---
Curriculum
AM: We'll begin with a physical warm-up. Afterwards, explore the breakdown of body parts, movements, and the building of characters based on the physicalization of the body.
JUMPING IN:
Exploring Basic Puppetry Technique
Keeping in mind the links to principles of animation (such as anticipation, exaggeration, secondary action, etc…)., explore the fundamentals of puppetry technique including focus, lip-sync, breath, the breakdown and exaggeration of movement, plus, how to create the illusion of effort and weight.
Creating a Character
When animating a character, either through drawing or physically through a puppet, much can be expressed through body language. We will explore the differences in rhythm, energy level, centre of gravity, and weight that can illuminate a character's physicality and personality.
PM: In the afternoon, if not before, we will continue exploring basic puppet exercises by introducing the use of a camera (in addition to a variety of puppets). TV monitors are not only a useful tool for practicing puppetry technique, but it will also give participants an opportunity to learn the art of television puppetry (staging and posing).
We will play with exercises involving basic puppet manipulation, finding voices, and expressing emotion physically. Both solo and group improv will involve:
Acting and reacting

Working the frame (staging)

Enter/Exit lazzi

Simple scenarios

Use of props
We aim to finish the day with question/answer and discussion.
Recommended: Dress comfortably. Education and / or experience in animation is recommended as animation fundamentals will apply throughout the course.
Sure, bring a puppet if you have one. Otherwise, we will supply.
---
Your Instructors
Trish Leeper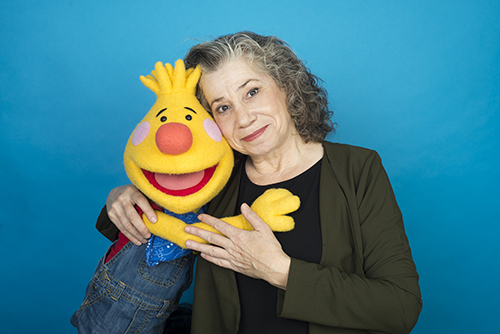 With a background in mime, movement, mask and theatre, Trish began her career as a puppeteer in l982 playing Ma Gorg in the TV series Fraggle Rock. Since then, she has worked estensively with Jim Henson's Muppets: the Jim Henson Hour, numerous Muppet Specials and ongoing characters for CBC' Sesame Street/Sesame Park.
Film work involving puppetry and animatronics includes Johnny Five in Short Circuit II, Mommy Dodo on CTW's Follow That Bird, as well as work on Tommy Boy, The Santa Clause, Trilogy of Terror II and The Pooch and the Pauper.
Trish has toured internationally with Theatre Beyond Words (performing mask in "The Potato People" 1986-87) and with Theatre Les Deux Mondes' award-winning Tale of Teeka (L'Histoire de L'Oie) which she helped develop both as a performer and puppet builder (1992-2007).
As well as acting as puppet coach for numerous productions involving puppetry and mask, she has taught classes and given workshops in technique and performance in many schools and, most recently, for the Greater Vancouver Theatre Allicance and the Puppets Up festival in Almonte, Ontario.
Kathryn Durst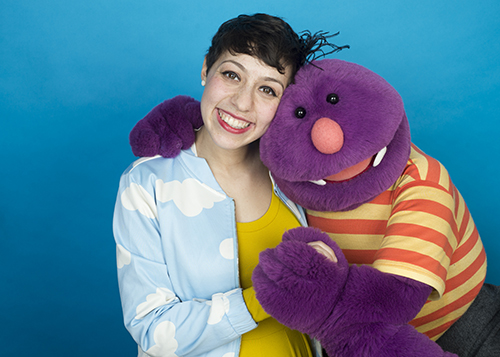 Kathryn has a passion for illustration, design, animation, film and puppetry! She attended Sheridan College for the Bachelor of Applied Arts - 2D Animation Program and graduated in 2013. In her third year, she completed her internship at Pixar Animation Studios for storyboarding. She loves working on children's entertainment, publictions, and media - especially kid's books and television series. She is currently based out of Toronto, Canada.
---
Presenting Sponsor
Skyship Entertainment
With over 6.5 billion YouTube views, Skyship is now home to some of the most well known and most loved children's content on YouTube. It's been almost a decade of sharing our songs and stories on YouTube, and now with Skyship, we're continuing our mission of making enriching content available to children in every corner of the globe. Our core team combines over a decade of broadcast and digital-first experience to create something truly unique; a broadcast style pipeline that flows at made-for-digital speed. It's a process that begins with us and ends with us and the result is content that is unique and engaging.